Game time and TV set for the Razorbacks' tournament opener against Utah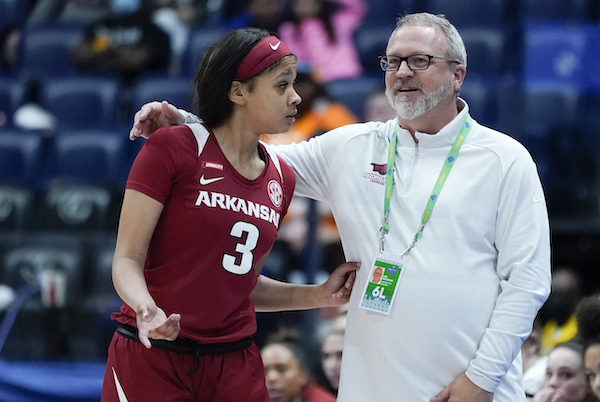 Posted: Monday March 14th 2022
The University of Arkansas women's basketball team's NCAA Tournament opener time has been set for 4:30 p.m. Friday.
The Razorbacks (18-13) are the No. 10 seed and will face No. 7 seed Utah (20-11) at the Erwin Center in Austin, Texas as part of the Spokane. The match was revealed on Sunday evening, but the time was not released until Monday morning.
The match will be televised by ESPNEWS. It can also be accessed through WatchESPN.com or the ESPN app.
Arkansas will compete in back-to-back tournaments, but the Razorbacks were anything but a lock for the tournament in 2020, which was canceled due to the covid-19 pandemic.
Going to the tournament three years in a row puts this group in rare company in program history. The Razorbacks have appeared in the NCAA Tournament three years in a row only two other times in 2001-03 and 1989-91.
This will be the 13th participation in a tournament in the history of the program. Last year's 66-62 loss to Wright State was only the third time the Razorbacks lost in the first round.
The Arkansas-Utah winner will face second seed Texas (26-6) or No. 15 seed Fairfield on Sunday. That Texas-Fairfield game is scheduled for 7 p.m. Friday.
The Longhorns won the Big 12 tournament championship on Sunday and are coached by former Arkansas assistant coach Vic Schaefer, a close friend of Arkansas coach Mike Neighbors.
Defending national champion Stanford is the No. 1 seed in the Spokane area, while LSU is the No. 3 seed.