Press release on the new TV program EVOLVE NOW! | Entertainment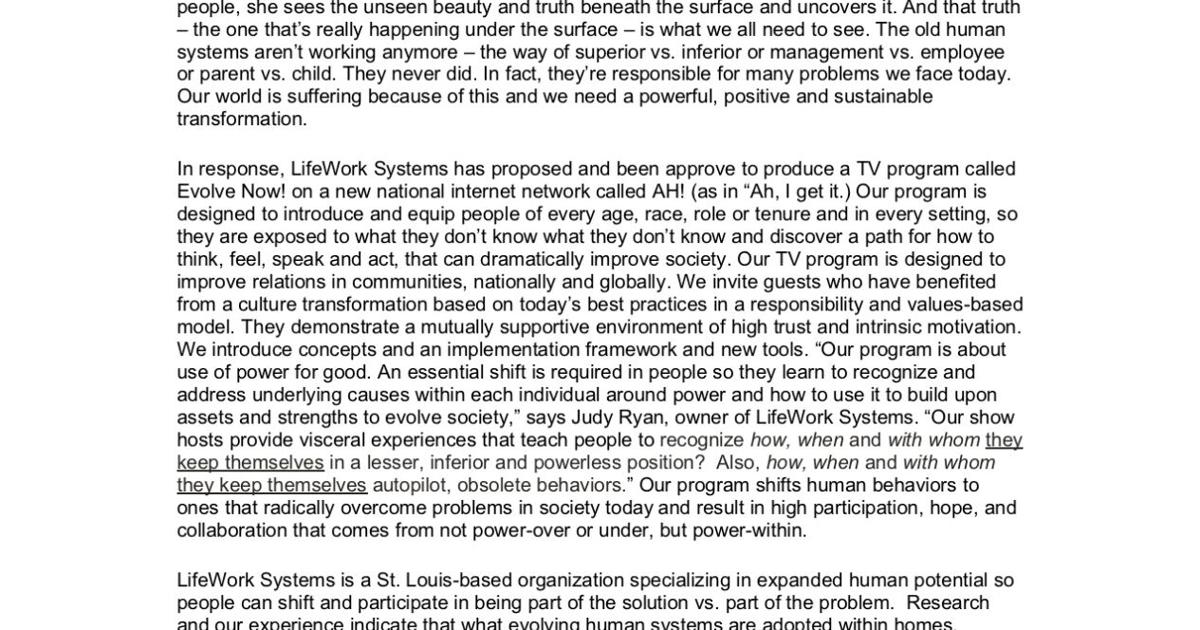 DATE: July 9, 2021
FOR RELEASE: IMMEDIATELY
FOR MORE INFORMATION CALL: Judy Ryan, 314.239.4727
Announcement: A New National TV Show: Evolve Now!
LifeWork Systems Takes Action; We offer alternatives to the societal status quo and
to strike at the root of all the internal and external struggles that we all see today.
People are clamoring for systemic change, but they don't know what to dismantle and what to create instead. A thinker and developer of human systems is needed to introduce a new and better wau.
August 29, 2021 – When Beethoven saw a piano, he saw a symphony. When Judy Ryan meets people, she sees and discovers the unseen beauty and truth beneath the surface. And this truth – the one that is really happening below the surface – is what we all need to see. The old human systems no longer work – the way of the superior against the inferior or of the management against the employee or the parent against the child. They never did. In fact, they are responsible for many of the problems we face today. Our world is suffering because of this and we need a powerful, positive and lasting transformation.
In response, LifeWork Systems proposed and obtained approval to produce a television program called Evolve Now! on a new national Internet network called AH! (As in "Ah, I get it.) Our program is designed to introduce and equip people of all ages, races, roles or functions and in all settings, so that they are exposed to what they don't know and what they don't know. know and discover a way to think, feel, speak and act, which can significantly improve society. Our television program is designed to improve relationships in communities, nationally and globally. We invite guests who have benefited from a cultural transformation based on today's best practices in a model based on responsibility and values. They demonstrate a mutually supportive environment of great trust and intrinsic motivation. We introduce concepts and an implementation framework and new tools. "Our agenda is about using power for good. Critical change is needed in people so that they learn to recognize and deal with the underlying causes within each individual around power and how to use it to build on strengths and strengths to advance power. company, "says Judy Ryan, owner of LifeWork Systems. "Our facilitators provide visceral experiences that teach people to recognize how, when, and with whom they maintain an inferior, inferior, and helpless position? Also, how, when and with whom they themselves keep autopilot, obsolete behaviors. Our program transforms human behaviors into behaviors that radically overcome the problems of today's society and result in high participation, hope and collaboration that does not come from higher or lower power, but from higher or lower power. an inner power.
LifeWork Systems is a St. Louis-based organization specializing in expanding human potential so that people can change and participate by being part of the solution rather than part of the problem. Research and our experience indicate that whatever evolving human systems are adopted into homes, businesses, political structures and more, people thrive and operate in fully engaged ways.
FOR MEDIA DOCUMENTS, MORE INFORMATION, INTERVIEWS AND OTHER RESOURCES, CONTACT:
Judy ryan
CEO, LifeWork Systems 2221 Rule Avenue
Maryland Heights, MO 63043 314.239.4727 (portable) www.LifeWorkSystems.com
"Our goal is to create a world where people enjoy their lives. "