The dawn of a new era? With franchise renewal stalled, 'TV Patrol' finds a new home online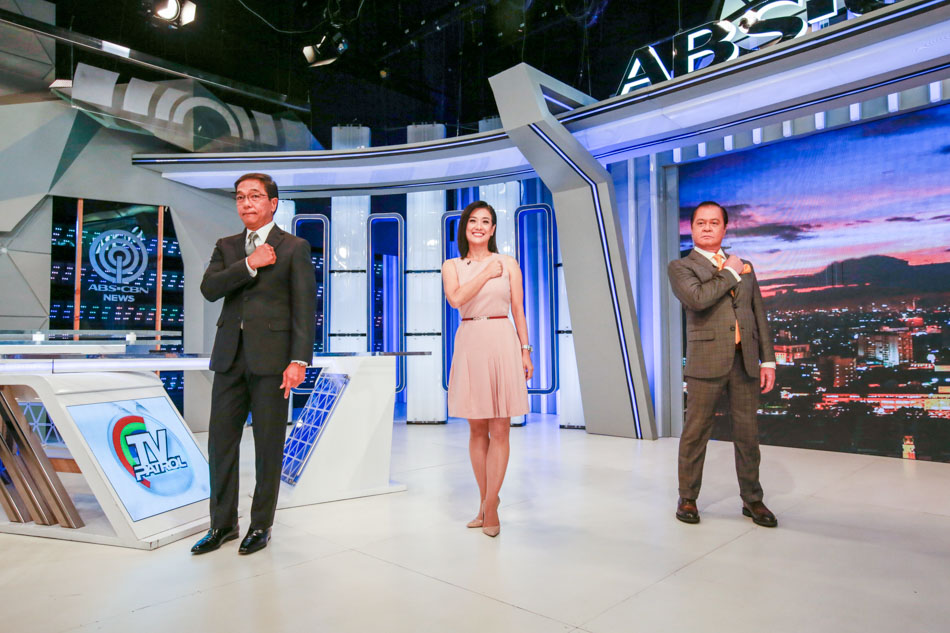 ABS-CBN's long-running nightly news program "TV Patrol," made history Thursday, shifting from a traditional broadcast to a purely digital platform and ending speculation about its survival.
The prospect of the return of one of ABS-CBN's programs looked grim just two days ago, after the National Telecommunications Commission (NTC) issued a cease-and-desist order that forced the network to terminate its television and radio operations.
But the re-emergence of "TV Patrol" as an online entity has given hope to millions of Filipinos who have become accustomed to getting their daily dose of nationally relevant information from Noli de Castro, Ted Failon and Bernadette Sembrano.
Here are some images from Thursday's edition of "TV Patrol", trumpeted by some as the dawn of a new era in journalism.
From Thursday it is now possible to watch the entire "TV Patrol" newscast – directed by Ted Failon (from left), Bernadette Sembrano and Noli de Castro – on a smaller screen. Jonathan Cellona, ​​ABS-CBN News
From Thursday it is now possible to watch the entire "TV Patrol" newscast – directed by Ted Failon (from left), Bernadette Sembrano and Noli de Castro – on a smaller screen. Jonathan Cellona, ​​ABS-CBN News
The "TV Patrol" team is back. Jonathan Cellona, ​​ABS-CBN News
The "TV Patrol" team is back. Jonathan Cellona, ​​ABS-CBN News
"Kuya" Kim Atienza waits her turn to appear on camera. Jonathan Cellona, ​​ABS-CBN News
Bernadette Sembrano on the "TV Patrol" streaming news this Thursday. Jonathan Cellona, ​​ABS-CBN News
The "TV Patrol" team is back. Jonathan Cellona, ​​ABS-CBN News
The "TV Patrol" team is back. Jonathan Cellona, ​​ABS-CBN News
Castro's "Kabayan" Noli bursts into laughter on the "TV Patrol" streaming news Thursday. Jonathan Cellona, ​​ABS-CBN News
The "TV Patrol" team is back. Jonathan Cellona, ​​ABS-CBN News
The "TV Patrol" team is back. Jonathan Cellona, ​​ABS-CBN News
Ted Failon (from left to right), Bernadette Sembrano and Noli de Castro are ready to prove that, even on a purely digital platform, "TV Patrol" remains the essential source of information for Filipinos. Jonathan Cellona, ​​ABS-CBN News
ABS-CBN franchise, renewal of the ABS-CBN franchise, ABS-CBN shutdown, ABS-CBN cessation and withdrawal, NTC order ABS-CBN shutdown, expiry of the ABS-CBN franchise, NTC, National Telecommunications Commission, freedom of press, press freedom, Patrouille TV, Noli de Castro, Bernadette Sembrano, Ted Failon, site only