The Star Wars TV series empire is fast running out of space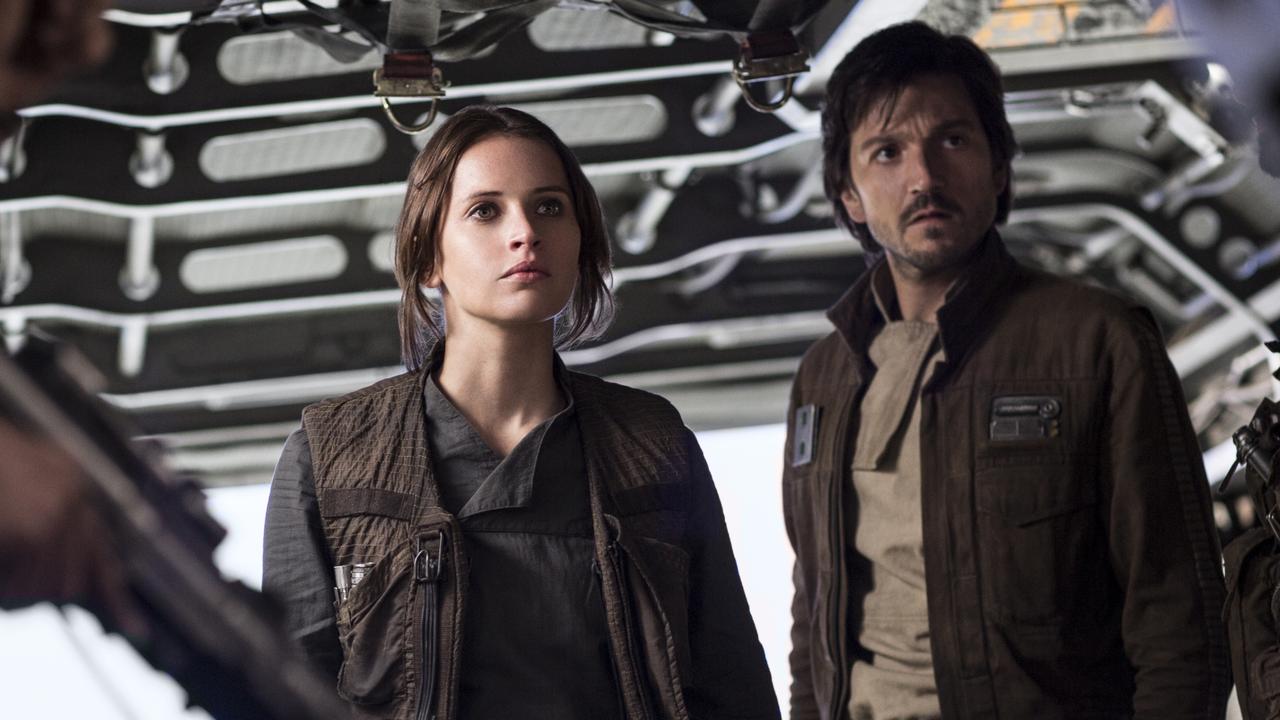 With all the new Star Wars TV series rolling out, all this cross-promotion has the potential to get ridiculous, writes Duncan Lay.
There's a hilarious scene in the cowboy parody Blazing Saddles where the fight in the bar gets so big it spills over into the neighboring set of a musical and continues there, dragging the dancers into a massive punch.
I was reminded of this when I heard about the rollout of all the Star Wars TV series and how they seemingly all take place over the same time period.
With the new Obi Wan series debuting on Disney+ on Friday, Star Wars boss Kathleen Kennedy gave an update to Vanity Fair, revealing plans are for three Star Wars TV series per year.
This will continue, presumably, until even the sad alien in the unconvincing orange foam bodysuit at the back table of the canteen gets his own origin story.
Movies take a back seat, with Kennedy confirming that Rian Johnson's movies are dead. Johnson was the man behind The Last Jedi, the movie that nearly destroyed the franchise. He's now focused on more Knives Out movies with Daniel Craig, ironic given that so many fans had Knives Out for him.
Anyway, after Obi Wan this year, we can expect Andor, an origin story for Cassian Andor (Diego Luna), the rebel spy in 2016's Rogue One film, then the third series of The Mandalorian.
Next year we'll have Ahsoka, starring Rosario Dawson as Anakin Skywalker's former apprentice and her adventures.
Then there will be Lando, the other adventures of what was, for a time, the only black guy in the Star Wars universe, as well as Rangers Of The New Republic (a Mandalorian spin-off) and A Droid Story, with C-3PO and R2D2.
And director Jon Watts (Spider-Man) has received another series, untitled but the whisper is that it will be a nod to ET, The Goonies and Stranger Things, where a team of kids must save the day. The suggestion is that they could be Padawans trained by Luke Skywalker.
This will give Mark Hamill another chance to break his vow to never play Luke again.
Now, all of these shows either take place between Revenge Of The Sith and A New Hope, or after Return Of The Jedi and before A Force Awakens.
Ironically, for a sci-fi franchise, it feels like it's running out of space – literally – to put them all in.
We've already seen Ahsoka appear in The Mandalorian and Mando take over the Boba Fett series.
It's only going to get worse, with so many series rushing in at the same time.
Are we going to see a miraculous escape because the villain can't finish off a hero because they're needed on another planet to threaten someone else?
Or three heroes show up to save the day at once?
Look, I love cross-promotion as much as the next Star Wars fan, but it has the potential to get ridiculous.
So maybe Mel Brooks had the right idea in 1974. Just tear down the attached walls and have them all fight together. The winner is the last alien standing.
It might be controversial but it would still be more popular than The Last Jedi.
Why Marvel Fans Need To Stop Whining
I need to call the doctor, because all the moaning about Doctor Strange is making me sick. (But don't worry, I'm not that scammer who's going to start spewing spoilers all over the place.)
As you probably know, Doctor Strange in the Multiverse Of Madness is the number one movie in the world, but this latest Marvel movie has proven to be somewhat divisive.
While the box office totals are very impressive, its overall review score on Rotten Tomatoes has dropped to 75%, which is mediocre for a Marvel movie and dangerously close to Thor Dark World territory.
More than that is the amount of moaning going on on social media.
"Oh, you have to have watched the Disney+ TV series WandaVision, Loki and What If? as well as all the previous Marvel movies to figure that out.
And: "Oh, it introduces a bunch of characters (spoilers!) but doesn't do what we wanted with them."
The concept of standalone Marvel movies is deader than Thanos.
This universe is more interconnected than a Jenga set. Everything is balanced on top of each other and the whole structure is built to get the maximum benefit from us.
Back in the distant mists of time, before Covid, I wrote that the whole point of these shows was to lock us into Disney+ contracts.
People, this Asgardian flying vessel has now sailed.
With Marvel, you're either in or out.
They don't want the casual fan who can skip a few movies but then come back for the big team movies. Now it's moviegoers sitting in not just literal but figurative darkness, searching for a kernel of knowledge in their popcorn of ignorance and sucking on a mouthful of despair.
As things happen and characters appear that don't make sense to them, their only hope is to sadly wait for a quiet moment so they can ask their partner/friends what's going on. pass.
There is so much supposed knowledge in these films that a "Before…" sequence would last almost as long as the film itself.
Likewise, anyone who complains that Multiverse Of Madness introduced a bunch of characters but didn't do much with them is suffering from a similar ailment.
These characters have been introduced to promote their own movies and/or miniseries, which will be announced in due course. In fact, calling it a Jenga set was underselling it.
With Jenga you can remove some parts and the structure still holds. It's more of a Velcro Jenga set. You cannot delete anything.
So join the program or leave.
This film has already grossed $450 million at the box office in just over a week. The Marvel juggernaut doesn't turn around for you.
My main complaint with Doctor Strange 2 concerns the title. This really sells Wanda's (Elizabeth Olsen) involvement short.
I would say she is a bigger star and is more from the movie.
But I guess a title implying that they would see Benedict Cumberbatch playing with his Wanda would have left his adoring fans with nothing but cause for real disappointment.